Civil War Scholar Frank Scaturro returns to Athens for his third talk to our Round Table. This presentation will provide new insights into Ulysses S. Grant's presidency based on additional research since his earlier visits. Frank describes his talk this way: "Grant's presidency has traditionally been arguably the most misunderstood of any of the nation's chief executives. Reconstruction is the biggest reason, but not the only reason, for a presidential reputation that historians once placed near the very bottom of the list, only to undergo a recent revival. Yet even with that revival, many distortions endure in both the popular and the scholarly imagination. My talk will explore why generations of built-up confirmation bias and double standards among historians stood in the way of doing justice to Grant's tenure in the White House and review Grant's changing standing among scholars in recent years."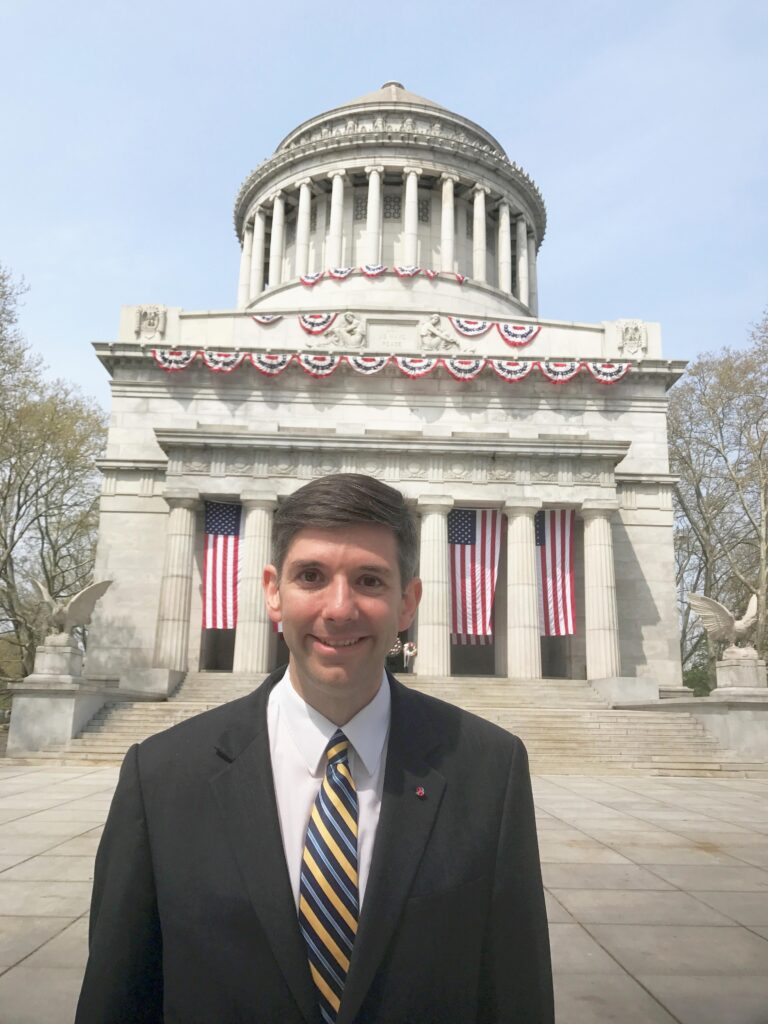 A brief bio of Frank Scaturro:
Frank Scaturro is an attorney and writer. A graduate of Columbia University and Penn Law School, he served as Counsel for the Constitution for the Senate Judiciary Committee from 2005 to 2009, where he advised Republican senators on constitutional law issues and nominations. Afterwards, he taught courses as a visiting professor at Hofstra Law School on constitutional law and the legislative process. The founder and president of the Grant Monument Association, Frank fought a failed government bureaucracy and pushed for a $2+ million restoration of Grant's Tomb.
Frank has published a number of books and articles in the area of history and law, including President Grant Reconsidered (1998), a reassessment of Grant's presidency; The Supreme Court's Retreat from Reconstruction (2000), an exploration of a key chapter in the history civil rights; Public Companies (2002), a book he co-authored on how to be a responsible public company in the wake of the corporate scandals of a decade ago.
He has served as an associate at Cadwalader, Wickersham, and Taft and a partner at FisherBroyles LLP. He is a past Republican candidate for Congress in New York's Fourth Congressional District. During the 114th Congress, he served as special counsel to the House Select Investigative Panel. He currently serves as vice-president and senior counsel of the Judicial Crisis Network, in Washington, D.C. He is also co-editing Grant at 200, a collection of essays about Ulysses S. Grant to be published during his 200th birthday observances in 2022, "hot-of-the-press" copies to be available at Frank's Athens presentation.
MEETINGS ARE GENERALLY HELD ON THE FIRST MONDAY OF EACH MONTH AT THE ATHENS COUNTY LIBRARY BRANCH AT THE CORNER OF LINCOLN AND HOME STREETS IN THE CITY OF ATHENS. MEETINGS START AT 7:00 P.M. AND GENERALLY RUN FOR AN HOUR AND HALF.
[EXCEPTIONS TO OUR FIRST MONDAY MEETING DATES INCLUDE NATIONAL HOLIDAYS WHICH FALL ON THE FIRST MONDAY AND WHEN ELECTION DAY IS THE FOLLOWING DAY, SINCE THE LIBRARY IS A POLLING PLACE. IN THESE CASES, THE MEETING DATE IS MOVED TO THE SECOND MONDAY. ]