ALL MEETINGS ARE HELD ON THE SECOND WEDNESDAY OF EACH MONTH AT THE ATHENS COUNTY LIBRARY BRANCH AT 30 HOME ST. IN THE CITY OF ATHENS. MEETINGS START AT 7:00 P.M. AND RUN FOR AN HOUR AND HALF.
Jan. 13, 2021 (Wednesday) – The 63rd Ohio Volunteer Infantry: Athens County Men at War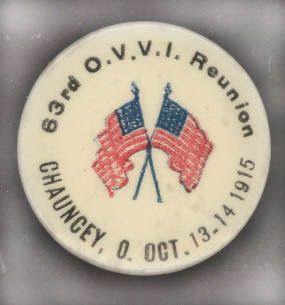 This presentation will be by Martin W. Lowery.  He has studied this unit extensively, and he re-enacts as a solider in this unit, which had a lot of Athens Count men in its ranks.  Martin has made presentations to our CWRT before, and they have always been well received.  Martin is an active a reenactor, and is the senior vice commander of Sons of Union Veterans, Townsend Camp 108.  Come and hear his presentation.  You'll be glad that you did!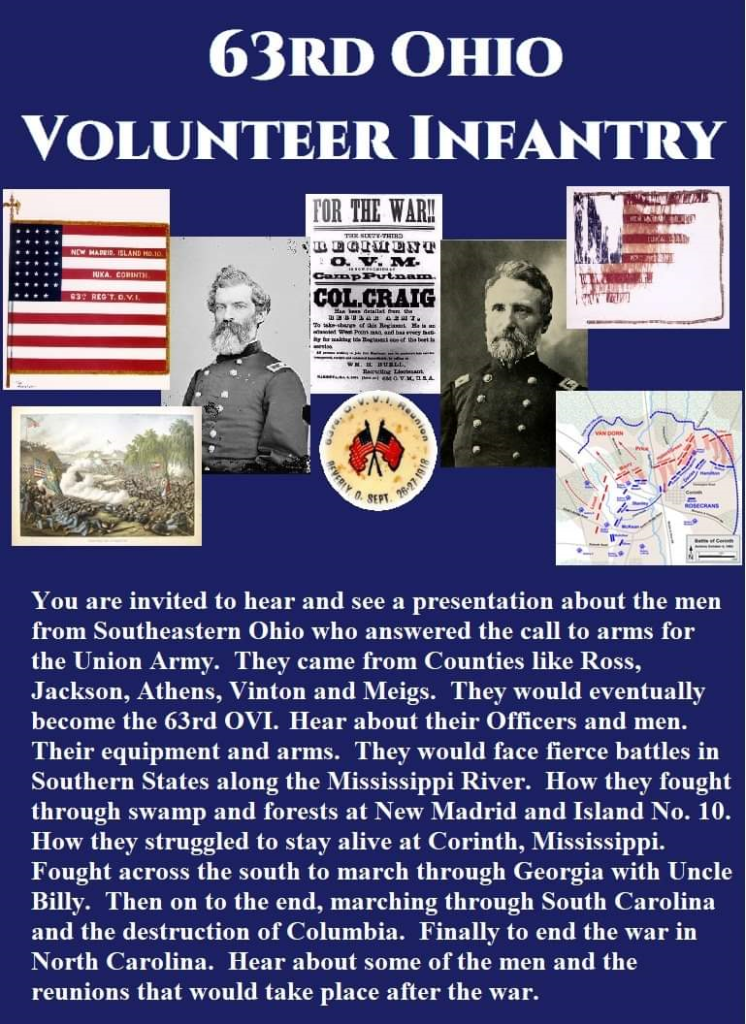 Feb. 10, 2021 (Wednesday) — TBA
March 10, 2021 (Wednesday) – "But Not For My Children: The Holland Brothers' Unlikely Journey From Slavery"
Scott Britton, executive director of the Castle Museum in Marietta, will be making this presentation. He is a highly regarded expert on Southeastern Ohio history. Here is his description of his talk: "Family relationships before the Civil War often involved very complex dynamics and choices that are hard for us to comprehend today. This is particularly true with the Holland's of Albany, Ohio. Born into slavery in Texas, three brothers were sent to Athens County by their father, a powerful pro-slavery politician. While their father fought for the Confederacy, Milton, William, and James Holland all joined the Union Army to help liberate their mother and siblings still enslaved on their uncle's cotton plantation. This program will follow their upbringing, Civil War service, and their incredible achievements and legacy. Stories of their Medal of Honor heroism and leadership, business entrepreneurship, political service, and founding of schools in Texas will inspire one and all."
April 14, 2021 (Wednesday) –The Turning Point: The Wilderness and Spotsylvania.
Popular speaker John Fazio returns to make this presentation about the twin battles of The Wilderness and Spotsylvania, May 5-19, 1864. He argues that these battles, despite the fact that the first of them was a Confederate victory, constitute the true turning point of the Civil War because they forever extinguished the possibility that the Confederacy could win the war. That possibility was already remote by virtue of major Union victories at Gettysburg and Vicksburg, in July, 1863, but neither of those battles sealed the Confederacy's fate, as demonstrated by the later Confederate victory at Chickamauga (September, 1863). The fate was sealed when General Grant turned south at the Brock Road-Plank Road intersection, toward Spotsylvania Court House, after his defeat in The Wilderness, rather than northward to re-cross the Rapidan, lick his wounds and regroup, as the long train of mediocrities before him had done. Grant promised Lincoln there would be no retreat, and meant it. "I propose to fight it out on this line if it takes all summer," he wired Henry Halleck. And he did.
May 12, 2021 (Wednesday) – Perhaps Motts can make a presentation on this date.
=================================
Possible substitutes (as needed):
Your Ancestor's Regiment, or What Did Great-granddad Do in the War?Since many members of our CWRT have ancestors who fought in the war, we thought it would be interesting for each member who has such a relative to talk briefly about what he or she knows about that ancestor. This would be followed by a roundtable discussion of the various theaters where these ancestors fought.
Flamboyant Generals. A true roundtable discussion of some of the most eccentric and flamboyant generals of the late rebellion. Possible candidates include George Custer, Stonewall Jackson, Judson Kilpatrick, David Hunter, Thomas Francis Meagher, Nathan Forrest, Don Carlos Buell, Thomas Maley Harris, and John C. Frémont.
Battles of Monocacy and Ft. Stevens. This will be a two-part presentation. First Carl J. Denbow will discuss the Battle of Monocacy, which was a Confederate victory but delayed the rebel advance on Washington enough to allow reinforcements to be put in place so that Confederates were repulsed at Ft. Stevens. Monocacy was an ironic battle in that while it was a defeat, it probably represented the best leadership of the war for General Lew Wallace. The second part of the meeting will be a discussion of Ft. Stevens lead by David Frey. Some have called this campaign by Jubal Early to threaten or take Washington as the last chance for victory by the Confederacy.
Ohio cavalry. Through the good offices of Marvin Fletcher we will attempt to secure the services of Eric Wittenberg to make a presentation on Ohio cavalry units.