Steve Ball will entertain our round table members with some Civil War Era music and will educate us about the background of each piece. His presentation will emphasize songs inspired, written or first performed by women. Toward the end of his performance he will entertain requests from the audience for favorite Civil War tunes. This promises to be both a fun and educational evening. Everyone is cordially invited to attend.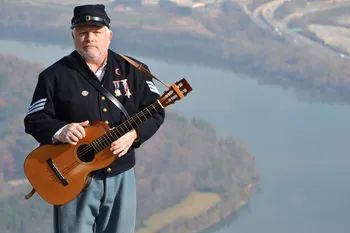 Steve, a musician from Columbus Ohio, is no stranger to Athens, having provided Civil War music for both the dedication of the "Chauncey Boys" historical marker in 2022, and for the re-dedication of the "Boys in Blue" maker in the W. Union Street Cemetery this past Memorial Day weekend.
Not only does he specialize in music of the American Civil War, but he's also an expert on the music and life of Stephen Foster. Steve has studied the American Civil War since his teens and has devoted the past twenty years to studying the music of this era in American history.
His presentations have included ones at the Ohio Statehouse, the National Civil War Museum, the American Civil War Museum of Ohio, and countless historical societies, genealogical societies, libraries, museums, Civil War Round Tables and other historical venues such as re-enactments or living history programs.
He has released two CDs of the music of the Civil War and is currently working on a CD of Stephen Foster tunes. Steve has been an instructor for Life Long Learning through Central Ohio Technical College. He also provides the music for the annual Springfield Ohio Civil War Symposium and is the narrator for the 73rd Ohio Volunteer Infantry Civil War Brass Band.
Steve is a member of the Sons of Union Veterans of the Civil War and a member of the Civil War Preservation Trust. He has participated in the annual Windham New York Civil War Music Gathering, and the Gettysburg Music Muster at the Gettysburg Military Park visitor center.