STARTING IN 2022 ALL MEETINGS ARE HELD ON THE FIRST MONDAY OF EACH MONTH AT THE ATHENS COUNTY LIBRARY BRANCH AT CORNER OF LINCOLN AND HOME STREETS IN THE CITY OF ATHENS. MEETINGS START AT 7:00 P.M. AND RUN FOR AN HOUR AND HALF.
The Steering Committee of our round table met recently and decided to delay our fall return until October. Our new tentative schedule is "The Holland Brothers," by Scott Britton, for the 13th of October; and "The 63rd OVI," by Martin Lowery, for the 10th of November. All meetings are the second Wednesday of the month.
The presentation by John Fazio on "The Wilderness and Spotsylvania," has been moved from October to March.
Nov. 13 2021 (Wednesday) — "But Not For My Children: The Holland Brothers' Unlikely Journey from Slavery."
Speaker Scott Britton will share original research on the remarkable lives of an Athens County family entitled, "But Not For My Children: The Holland Brothers' Unlikely Journey from Slavery." Brothers Milton, William, and James Holland were all born to an enslaved woman of Spearman Holland. Their father, Bird Holland, was the brother of the plantation owner. In a complex dichotomy of attitudes regarding slavery and his own family, Bird arranged to send these three sons to be educated in Ohio. They were enrolled in the Albany Manual Labor Academy, a school in Athens County that taught free black children.
Join us as we learn about this intriguing and complicated family dynamic that produced an extraordinary legacy. While their father Bird would serve as Secretary of State for Texas at the outbreak of the Civil War and be killed while serving as an officer in the Confederate army, the three brothers would all join the Union cause. Milton played a role in recruiting Ohio's first African-American unit, the 5th U.S. Colored Infantry, and was awarded the Medal of Honor for his heroism and leadership during the Petersburg Campaign. He would become a lawyer after the war and his brother William would serve as one of the first black legislators after returning to Texas, helping to establish Prairie View A&M. Mr. Britton has also discovered new details on their other often overlooked brother James' amazing and unexpected service and post-war life.
Nov, 10, 2021 (Wednesday) – The 63rd Ohio Volunteer Infantry: Athens County Men at War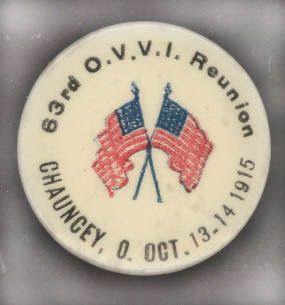 This presentation will be by Martin W. Lowery. He has studied this unit extensively, and he re-enacts as a solider in this unit, which had a lot of Athens Count men in its ranks. Martin has made presentations to our CWRT before, and they have always been well received. Martin is an active a reenactor, and is the senior vice commander of Sons of Union Veterans, Townsend Camp 108. Come and hear his presentation. You'll be glad that you did!
Jan. 3, 2022 (No meeting in January in 2022) —
Feb. 7, 2022 (Monday) — Ohio Politics Back on the Homefront
You of course know about Lincoln's famous Gettysburg Address of November 19, 1863. You probably know that it was preceded by Edward Everett's two-hour lecture. But did you know that afterward, dignitaries retreated to a local church and heard Ohio Lieutenant Governor-elect Charles Anderson deliver an address? Well, you can find out about this interesting "second Gettysburg Address," at our next CWRT meeting when Professor Brian Schoen talks about the pivotal gubernatorial election of 1863.
Until recently discovered by an ancestor and published as part of a book by author David T. Dixon, Anderson's Gettysburg Address had been lost to time. Schoen's presentation will discuss Anderson, his address, and the tumultuous political times in Ohio leading up to it.
A deeply divided, bell-weather state central to the war effort, the Unionist-ticket of Ohio Alum John Brough and Anderson against a Peace Democratic ticket of Clement Vallandigham and his attorney, George Pugh, proved important not only for the state's continued support of the war effort but also a template for national elections the following year.
March 7, 2022 (Monday) — The Life of the Common Solider & the Women on the Homefront
This presentation by John Murray will feature a look at the life of the common solider, and will include such areas as enlistment, provisioning, marching, life in camp, medical care, battle engagement and discharge. Various small pieces of equipment that would have been carried by soldiers will be displayed as well as some Minie balls and canister for attendees to see up close. The role of women at the homefront will also covered. At the end of the presentation there will be plenty of time for questions.
April 4, 2022 (Monday) — No meeting
May 2, 2022 (Monday) – Book Review Panel
Four members of the Steering Committee with review Civil War Era books. The members on the panel will be Brian Schoen, Carl J. Denbow, John Murray and Mike McCleary. A list of the books to be reviewed will be posted closer to the date of the meeting.
Related Event — Marker Dedication in Chauncey at the Village Park, Sunday, Sept. 11tth at 2:00 p.m.
Chauncey Civil War Patriots
During the War of the Rebellion three young men from Chauncey traveled to Parkersburg and Clarksburg, VA., to enlist in what was then the 1st Virginia Cavalry (USA). These "Loyalist Regiments" became West Virginia regiments in June 1863 just before the Battle of Gettysburg. None of these Chauncey Boys in Blue would live to see their 30th birthday. Lt. Sidney Knowles died when a rebel bullet struck his head during Farnsworth's Charge at Gettysburg. Lt. Hiram Robinett was seriously injured in that same charge and had part of his arm amputated. The two who survived the war – Lt. Robinett and Pvt. Robert Edwards – both had interesting but short postwar careers before succumbing to tuberculosis, apparently acquired in the service. Robinett worked for the Freedmen's Bureau in Washington, D.C., whose purpose was to provide food, shelter, clothing, and medical services to newly freed African Americans. Edwards, who received an M.D degree from Georgetown University Medical School in 1868, practiced in Zaleski for a short period before his death. He was Roman Catholic and is buried in Mt. Calvary Cemetery in Athens. The other two were Protestants and rest in Nye Cemetery here in Chauncey. Robinett's obelisk tombstone was paid for by donations from his co-workers at the Freedmen's Bureau. This historical marker honors the patriotism and devotion of three of Chauncey's finest patriots who gave their all to restore our Union in its darkest hour
Moved to fall: Sept 8, 2022 (Thursday) – The Turning Point: The Wilderness and Spotsylvania
Popular speaker John Fazio returns to make this presentation about the twin battles of The Wilderness and Spotsylvania, May 5-19, 1864. He argues that these battles, despite the fact that the first of them was a Confederate victory, constitute the true turning point of the Civil War because they forever extinguished the possibility that the Confederacy could win the war. That possibility was already remote by virtue of major Union victories at Gettysburg and Vicksburg, in July, 1863, but neither of those battles sealed the Confederacy's fate, as demonstrated by the later Confederate victory at Chickamauga (September, 1863). The fate was sealed when General Grant turned south at the Brock Road-Plank Road intersection, toward Spotsylvania Court House, after his defeat in The Wilderness, rather than northward to re-cross the Rapidan, lick his wounds and regroup, as the long train of mediocrities before him had done. Grant promised Lincoln there would be no retreat, and meant it. "I propose to fight it out on this line if it takes all summer," he wired Henry Halleck. And he did.
April 4, 2022 (Monday) — Your Ancestor's Regiment, or What Did Great-granddad Do in the War? Since many members of our CWRT have ancestors who fought in the war, we thought it would be interesting for each member who has such a relative to talk briefly about what he or she knows about that ancestor. This would be followed by a roundtable discussion of the various theaters where these ancestors fought.
=================================
Possible substitutes (as needed):
Flamboyant Generals. A true roundtable discussion of some of the most eccentric and flamboyant generals of the late rebellion. Possible candidates include George Custer, Stonewall Jackson, Judson Kilpatrick, David Hunter, Thomas Francis Meagher, Nathan Forrest, Don Carlos Buell, Thomas Maley Harris, and John C. Frémont.
Battles of Monocacy and Ft. Stevens. This will be a two-part presentation. First Carl J. Denbow will discuss the Battle of Monocacy, which was a Confederate victory but delayed the rebel advance on Washington enough to allow reinforcements to be put in place so that Confederates were repulsed at Ft. Stevens. Monocacy was an ironic battle in that while it was a defeat, it probably represented the best leadership of the war for General Lew Wallace. The second part of the meeting will be a discussion of Ft. Stevens lead by David Frey. Some have called this campaign by Jubal Early to threaten or take Washington as the last chance for victory by the Confederacy.
Ohio cavalry. Through the good offices of Marvin Fletcher we will attempt to secure the services of Eric Wittenberg to make a presentation on Ohio cavalry units.